Looking for Gastronorm information? So, you're ordering your new fridge or pizza oven and you're wondering if your existing trays/ containers are going to fit in okay? Perhaps you are unsure which cooking/ storage solutions will work best for you now?
One of the most common questions we answer for our customers is which size Gastronorms will fit in this pizza oven, or fridge?
At Euro Pizza Ovens, you will usually find the dimensions of our products in the 'Technical Specs,' part of the item description. If you are still unsure then please do get in touch and we will be able to help you out.
Once you have this information, all you need to do is look at our guide to Gastronorms below to see which will fit best in your shiny new kitchen appliance. It's that simple.
And for those of you who are unfamiliar with GNs, we have given a full guide below.
What is a Gastronorm? A brief history.
Often referred to as GN, Gastronorm is the term for a tray, container, or pan that has been made to an exact size specification for the catering industry.
The concept originated from Switzerland in the seventies and was soon adopted by the British Standards Institution.
This easy-to-follow sizing system brought a simple and measurable way to maximise oven or refrigerator space, ensuring that every bit of space is used efficiently whilst cooking and storing foodstuffs.
For manufacturers of kitchen machinery (ovens, fridges, etc) and kitchen accessories, trays, containers and so on, the Gastronorm system brought a uniform size guide to ensure their products are built for efficient cooking or storage.
Currently, Gastronorm systems are used for so much more. The size specs are now used in the building of deli-counters, hot buffet equipment, microwaves, and in fact for most catering appliances where the cooking/ storage of food is involved.
Types of Gastronorm
Gastronorms for roasting, baking or hot-food buffet service are often made of aluminium or stainless steel and may be perforated if they are to be used for steaming, or if air-flow for even cooking is required.
Cool-counters or refrigeration units may require GNs made of toughened glass, melamine or other composite plastics.
Finally, there are also disposable types made from aluminium foil, or other single-use materials.
What Gastronorm size do I need?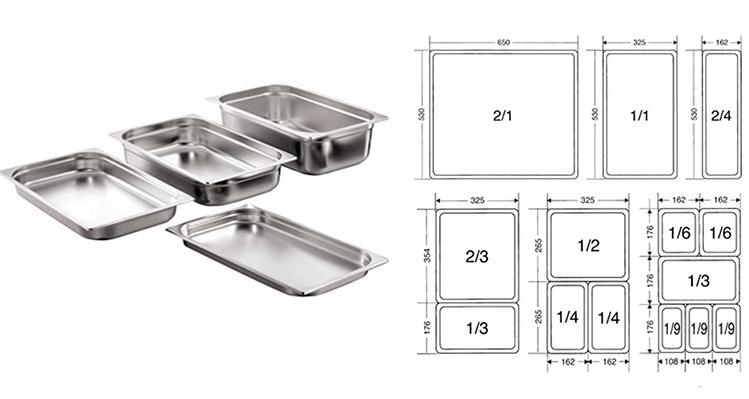 The standard Gastronorm sizes are shown in the diagram above.
There can also be a 1/8 size, measuring 150 x 120mm and a 2/8 ("long quarter") measuring 325 x 132mm, however, these are less common.
The dimensions shown describe the width and length of the GN, however when checking whether-or-not your trays, containers, etc will fit in the oven, it is important to check the height of the GN in question.
The standard Gastronorm depths are:
10mm
20mm
40mm
65mm
100mm
150mm
200mm
Should you need any further information regarding your oven and the Gastronorm sizes that will work for you, please contact us.